Innovation & Technology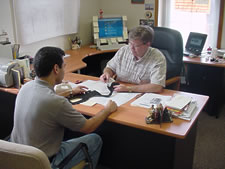 Innovation is simply too important to be left to chance. Defining and building a sustainable, repeatable innovation capability within your organization requires commitment focus and discipline.
We are committed to meet and exceed our customers' expectations by providing common tools, techniques and approaches, and generating and evaluating ideas that businesses can implement successfully into their ongoing business operations and strategies.
The Calabrese Group has a 35 year proven record of innovation and technological advances and is dedicated to the continuous improvement of the products, processes and business opportunities.
Customer Commitment Innovation Cycle
Listen

Collection of information directly from our customers, their patients and through market research allows us to provide solutions that are safe and effective. Our resources, both external and internal are often the individuals necessary to achieve the objectives to design products that will exceed our customers' expectations.

Design

Through dialogue, feedback, and incorporating the latest design equipment, we develop processes and products to exceed industry standards and governmental regulations.

Prototype

After design approval, each idea is prototyped to realize any design flaws and potential safety hazards. In most cases, the prototype is evaluated by focus groups for independent review. If our standards and specifications are not accomplished, we re-design the prototype until our objective is achieved.

Test

Before our Company commits to production, we receive advice and opinions from healthcare professionals and focus groups. We incorporate the latest available techniques and procedures into our decisions. Prototypes are reviewed and analyzed in actual settings to determine their safety and effectiveness.

Production

Product production is performed with the latest manufacturing techniques and processes. Only materials based on specific characteristics and performance criteria are selected. We have committed the necessary resources to consistently produce products that exceed our accepted standards. For this reason, product inspections are executed throughout each interval of the manufacturing and processing operations.

Continuous Improvement Process

The most important challenge of continuous improvement is communication and this is best exemplified by our ability to reach out and easily touch our employees, customers, professionals and suppliers. We pride ourselves on providing exceptional service to our customers and their end users.